28. Dystonie/>

28.7 Trigger Dystonia
TRIGGER DYSTONIA
MYOFASCIAL CAUSED DYSTONIA
Graag wijs ik op een bijzondere oorzaak van dystonie.
Its my a pleasure to point in the direction of an extraordinary cause of dystonia.
En ik noem het Trigger dystonie.
I call it Trigger –(and Tender) dystonia.

In de ontwikkeling van pseudoradiculaire syndromen zoals ik ze beschrijf in hoofdstuk 28, en zoals Mw.Travell ze in het Textbook of Pain heeft beschreven past de ontwikkeling van een Bijzondere vorm van dystonie.
In de describing of Madame Travell in the Textbook of Pain you can read a number of symptoms.

Bij de ontwikkeling van Myofasciale Triggerpoints in de spieren en Tenderpoints in het bindweefsel, zoals in kapsels , banden en pezen, ontwikkelen zich de volgende symptomen.

De next symptoms you can observe caused by Myofascial Trigger- and Tenderpoints.
1. Vage pijn in de omgeving.
Pain in de surround of Myofascial Trigger- and/or Tender points.

2. Heftige pijn lokaal.
Sharp pain local.
3. Segmentale en extra segmentale klachten elders,ik noem ze referred symptoms. En dat is niet alleen pijn.

Segmental and extra segmental complaints:

- drukpijn vaak alleen ontdekt tijdens beweging en vooral door middel van lokale druk waarbij er een rekkend element aanwezig moet zijn. In het gezicht is dat dan vooral bv. ,terwijl de Trigger- en tenderpoints worden opgezocht door met de vingertoppen krachtig op de kaakspieren wordt gedrukt , in dit geval dat de onderkaak ver moet worden geopend.
- Pressure pain, when you pull with your fingertips on the Trigger- and Tenderpoints in combination with stretching of the painful place.
- Satellietpijn, soms op grote afstand. Een voorbeeld zijn de satelliet klachten van de Mm.scaleni in dehanden.

Satellite complaints
- Vermoeidheid
Fatiguing, or getting tired fast.
- Snel optredende vermoeidheid bij herhaalde bewegingen.
Fatuiging or fast getting tired during repeated movements, compare nail hammering.
- Prikkelingen en tintelingen, paraesthesieën dus.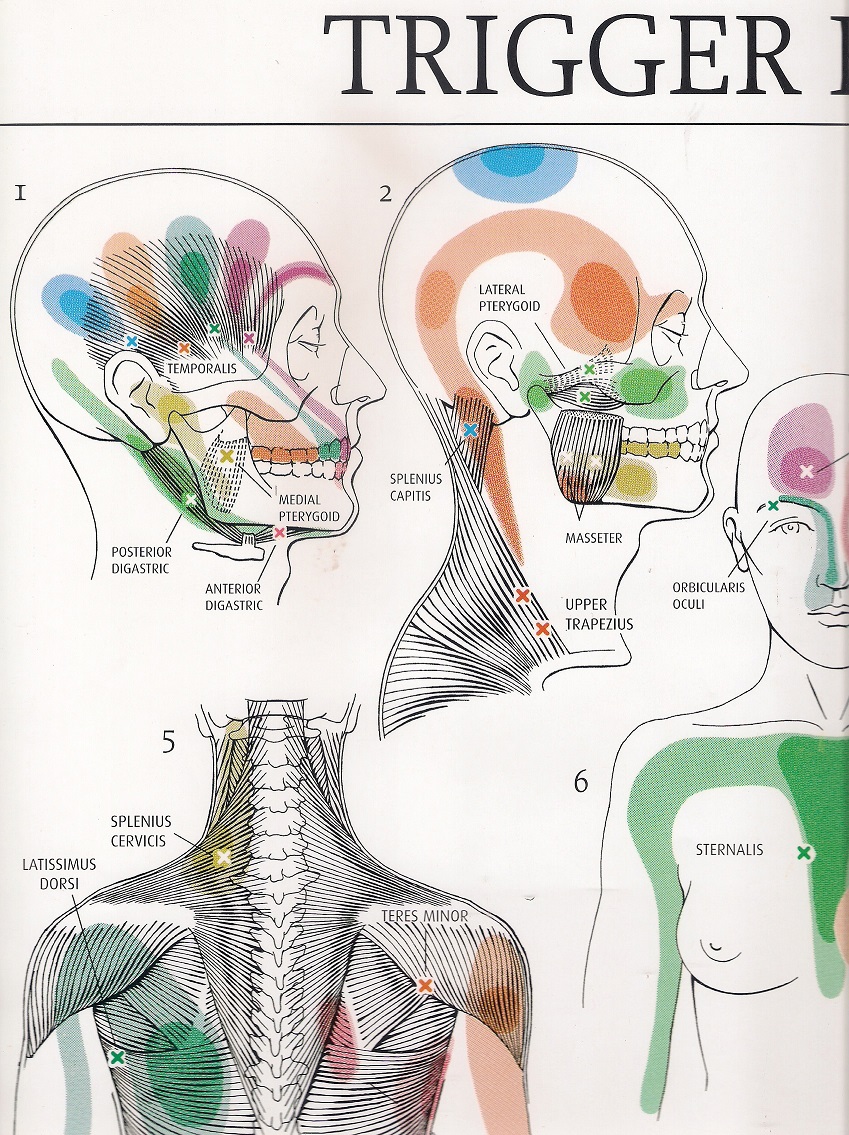 De kruisjes duiden de MF triggerpoints aan. De gekleurde zones zijn de trigger- en tender area's. In deze zones kan dystonie optreden.
X= myofascial triggerpoints coloured zones: trigger- and tender area's. In this zones Dystonia can occur.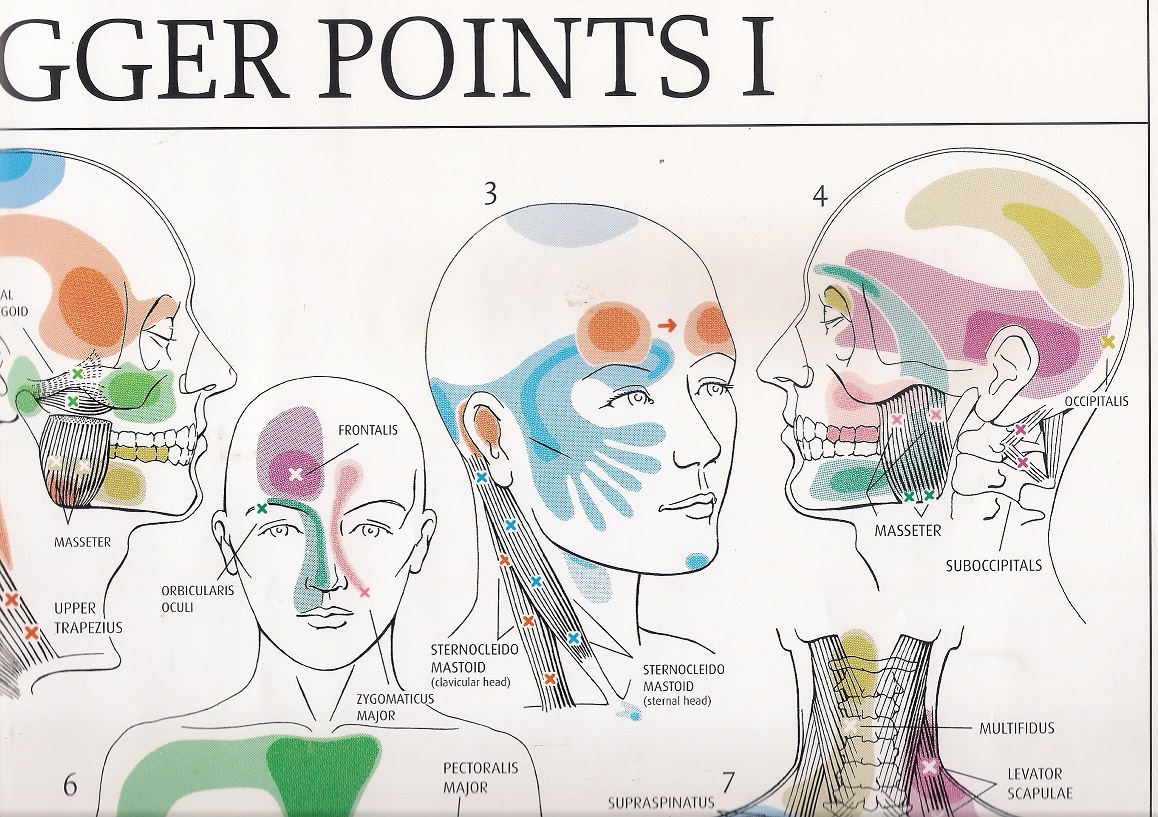 Paraesthesieën
Spierkrachtverlies. Pareses. Voor musici natuurlijk fnuikend.
Power loss
En omdat hiernaar veelal niet wordt gezocht naar deze pseudoradiculaire myosfasciale klachten en zeker niet in combinatie met rek, vindt men de oorzaak niet of nauwelijks tot nooit.
When you don't investigate this myofascial pain perhaps you'll never find the cause of the 'focal dystonia'.

- Vegetatieve stoornissen, in sudo-, vaso- en pilomotoriek.
Ortho- and parasympathic complaints in sudo-, vaso and pilomotorics.
Of course, dystonia can happen everywhere.
To discover this Myofascial cause of dystonia, you have to seek and to look after all muscles on the skull and in the face, neck etc etc.
Also when there is a dystonia in arms and hands.

My books De Blockpoint Relock Methode (De Tijdstroom) and also 'Pijndempen kun je zelf' (Ankh Hermes). Show how you can find and treat this complaints.